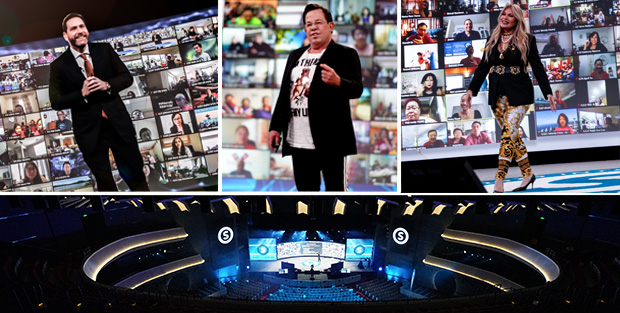 Reliving #MAIC2020 - the Best Online Event Ever
There's no denying that this year was different for the Market America | SHOP.COM International Convention. Driven by health concerns, the event was held online instead of in person, but the Corporate Team and UnFranchise® Owners would not have their spirits dampened. The presenters recognized remote attendees with shout-outs, and UFOs danced and cheered as if they were all in an arena together. Marc Ashley, President and COO of Market America Worldwide, said the theme for the weekend was "staying healthy and getting wealthy"!
To kick things off, Senior Executive Vice President Loren Ridinger brought energy and enthusiasm to the stage, saying, "We adapt. We adjust. Our first priority is the health and safety of the Market America family." She went on to promise an interactive experience that would provide a magical weekend. "May this become the most impactful, transforming weekend of your life," she said. When Marc Ashley came on stage, he displayed his usual excitement in announcing new products such as the Pumpkin Spice TLS® Nutrition Shake, new astaxanthin products and more.
Marc said that Market America is not only surviving during the pandemic, but thriving. This growth has been driven by the company's proactive response to develop and provide what its UFOs and customers needed, and keeping its prices the same even though in many cases its suppliers raised theirs. He introduced an awesome new tool, the UnFranchise Marketing App, along with new Isotonix® Daily Essentials Trial-Sized Marketing Pack, the first of many products to power up retail sales via the app. Executive Vice President of Market America Worldwide Dennis Franks was also fired up to talk about the new UnFranchise Marketing App, which makes it easy to share product samples, product information and marketing materials, all from your phone or tablet.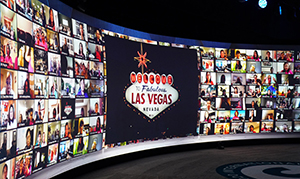 Marc also made the thrilling announcement of the location for the Market America | SHOP.COM 2021 World Conference, the bucket-list destination of Las Vegas! He praised the digital program used for #MAIC2020 and said UnFranchise Owner Magazine will soon be available in digital format, too. And he revealed the new Virtual Business-Building Booth now available on UnFranchise.com, similar to the #MAIC2020 Product Virtual Booth used for the convention. Marc also introduced the SHOP.COM powered by Xoom partnership that will save UFOs and customers money on their utilities. "You will earn IBV for life just for paying for something you have to pay for anyway," he said. The program is available to U.S. customers in the 19 states where utilities are deregulated. Marc also revealed that Sears and K-Mart will soon be added as a new OneCart store, with free shipping for purchases over $59.00. And also coming soon, he said, customers will be able to purchase Shopping Annuity® Brand and Super IBV products on SHOP.COM.
Maria Checa, Creative Consultant for Motives, introduced new fall/winter products, starting with the Motives® Horizon Eye Shadow Palette — and what's a winter collection without the new THALIA X Motives Besos Palette? One more product that everyone needs in their beauty bag is Motives Flawless Face Stick Foundation, with 19 shades to suit every skin tone.
Basketball star and Hall of Famer Scottie Pippen spoke with Vice President Andrew Weissman about Prime Joint Support Formula by Isotonix®. Its winning combination of Pycnogenol®, glucosamine and hyaluronic acid delivered in isotonic form has made it one of Market America's most sought-after products for the past eight years. "It's an amazing product," he said. Dr. Deedra Mason, Director of nutraMetrix® and Clinical Education, emphasized how community builds immunity with her good friends and fellow doctors, Dr. Laura Hamilton, Dr. Joseph Carfi and Dr. Cyd Charisse Williams. Andrew also made several appearances alongside Vice President of Sales Jim Winkler to recognize UFOs for their hard work and achievements.
During his presentations, Founder, Chairman & CEO JR Ridinger performed "brain surgery" on the eager attendees. "Obviously we're all affected by the situation and surprised by it, but crisis creates opportunity," he said. He emphasized that Market America is in the right place at the right time: "You are sitting at the starting gate of a new economy. We're doing it! We are the leader!" He educated UFOs on the modern-day miracle that is the binomial MPCP and told them that when one implements the evaluation approach, the ABC Pattern happens naturally. JR also discussed throughout the weekend what he referred to as The Three Keys — Residual Income, The Management Compensation Plan Combined with the Evaluation Approach, and Programming the Brain — which are absolutely critical to becoming a hopeless success through the UnFranchise Business.
Referencing the book "Acres of Diamonds" by Russell H. Conwell, Executive Vice President of Asia-Pacific Kevin Buckman emphasized the need to make sure that UnFranchise Owners (UFOs) are mining their "diamonds in the rough," people who might have been overlooked for one reason or another. International Field Chairman Elizabeth Weber-Walliser came to the #MAIC2020 stage and urged all UFOs to Zoom into action. "I'm building relationships like I never knew I could! If you are not building on Zoom, you are missing the boat," she said.
President and COO of SHOP.COM Steve Ashley outlined many improvements that make the SHOP.COM shopping experience better, including an improved AutoShip process for customers, the ability to pre-order new products, the new Doctor's Desk product sales support and more. UnFranchise Owners worldwide were also thrilled to hear that they can now choose to receive important business notifications through WhatsApp.
At this year's convention, the Tony Bowling Award was renamed to the Tony and Pam Bowling Award, to honor Pam's heartbreaking passing after last year's International Convention. The award, recognizing UnFranchise Owners who embody the loyalty, integrity and character that Tony and Pam were both known for, was presented to Cullen and Trinity Haskins, who accepted live from their home. "To be even compared to amazing people like Pam and Tony — I am speechless," Trinity shared. We are so honored and grateful." Cullen agreed: "I always looked up to their values and who they were as people and their hearts. We are truly, truly blessed to win this award."
President of Urban and Latino Development Joseph "Fat Joe" Cartagena gave an inspiring message in the midst of these uncertain times, focusing on the love and community that can be found in the Market America family. And Loren returned to the stage to inspire attendees with her poise and knowledge, discussing the importance of reprogramming your brain for success.